en-Be guided by spirit not driven by Ego
Be guided by spirit not driven by Ego.


An emotional morning and the intense challenges of recent times make me want to pull me away from the whole social part. Do not let the low self-esteem of other people get to extremes and violate other people in their desperate attempt to appear as the smartest, the most beautiful, the goodest.No ew! I have had enough of these superficialities and their petty fake game. How to ... we can find peace within us if we never dare to deepen the depths of our shadow. Which is crucial to the inner healing and to find the peace of our heart and mind. Dare to prove vulnerable. Dare to crack down so we can start over. We do not have to constantly get a pat on the shoulder to feel we're doing it. Certainly, it is nice with encouragement and gratitude for what you are trying to accomplish. But it's only one person's approval you need and it's yours. You are just as good as you are. You do not need an ego that controls. You surely survive by acting on your heart. Not because of the fear that lies behind the ego parade. You will not be lonely and abandoned, you will not hunger to death unless you act on your ego. But your soul comes slowly but surely to thaw away if you do not start near it with self-esteem. Why not instead of inducing others to how they should live, become your own model by showing how to take care of yourself and help others. Not because you need to follow the voice of your heart. Keeping constant baktala others does not raise your soul's frequency. It lowers you and only takes you away from your true soul. By just being the simple person you are and living out of your heart despite the fears, you will shine. Light like the wonderful soul you are. Let's do our inner job so that we can spread World Peace on this journey of life.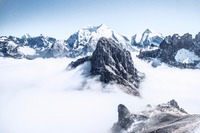 Använd bildsektioner för att dela upp innehållet
Förutom rubriker, kan även bilder visuellt dela upp innehållet på rätt sätt. Huvudsektionerna av ditt blogginlägg kan separeras med bilder som passar in i textens innehåll.
Du kan också använda blockcitat för att understryka de citerade källorna.
Ea commodi consequatur quis autem vel eum iure reprehenderit qui in ea voluptate velit esse quam nihil molestiae consequatur vel illum qui dolorem eum fugiat quo voluptas nulla pariatur at vero eos et accusamus et iusto odio dignissimos.